Wheel Balancer Machine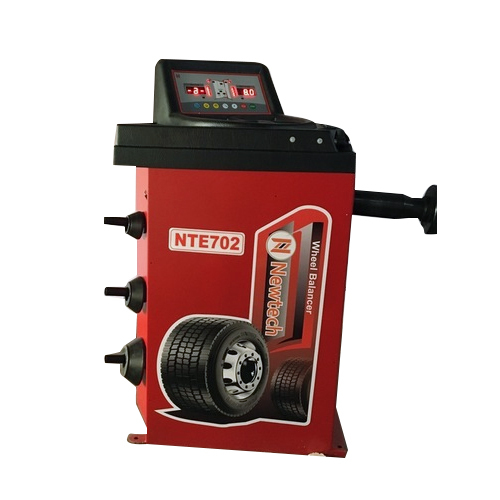 Wheel Balancer Machine
Price And Quantity
Product Specifications
Other

315 Millimeter (mm)
Product Description
With the support of our competent team of experts, we are betrothed in offering clients superior quality Wheel Balancer Machine that is used for wheel balancing in automobile. Manufactured using excellent grade components and modern techniques, this balancer is precisely designed under the strict guidance of our skilled professionals. Offered Wheel Balancer Machine is sternly monitored on various level of manufacturing to eliminate any kind of defect before delivering it to our clients.
The Wheel Balancer Machine is a must-have tool for any automotive service center or tire shop. This machine is designed to ensure that your vehicle's wheels are balanced correctly, which is essential for both safety and proper performance.
One of the key features of this machine is its smooth finish. The machine has been engineered to provide a smooth and accurate balancing process, without any bumps or vibrations. This ensures that the wheels are balanced to the highest level of precision, reducing the risk of uneven tire wear and increasing the lifespan of your tires.
Another feature of the Wheel Balancer Machine is its sturdy design. The machine is constructed from high-quality materials that are built to last, making it a durable and reliable tool for your business. The sturdy design also ensures that the machine is able to handle heavy loads and resist wear and tear, even with frequent use.
The machine is also designed to be lightweight, making it easy to move and transport as needed. This makes it ideal for businesses with limited space, or for those who need to take the machine to different locations.
Finally, the Wheel Balancer Machine is engineered for optimum strength. This means that it is able to handle heavy loads and resist wear and tear, even with frequent use. This makes it a reliable and dependable tool that can withstand the demands of a busy automotive service center or tire shop.
Technical Specifications of Wheel Balancer Machine :
| | |
| --- | --- |
| Frequency | 50 Hz |
| Brand | Newtech |
| Gross Weight | 146 kg |
| Max. Wheel diameter | 650 mm |
| Motor Power | 5 to 10 Hp |
| Packing Dimension | 850 x 700 x 1160 mm |
| Power Source | Electric |
| Rim Center Hole Diameter | Less than 145 mm |
| Rim Width | 315 mm |
| Voltage | 230 V |
FAQs of Wheel Balancer
What is a wheel balancer?
A wheel balancer is a machine that is used to balance the weight of a vehicle's wheels and tires. This ensures that the wheels and tires rotate smoothly, reducing vibration and tire wear.
How does a wheel balancer work?
A wheel balancer works by spinning the wheel and tire assembly at high speeds, and measuring the amount of weight required to balance the assembly. This weight is then added to the wheel in the form of a small lead or steel weight, which is placed on the inside or outside of the rim.
Why do I need to balance my wheels?
Balancing your wheels is important because unbalanced wheels can cause vibration and uneven tire wear, which can make your vehicle less stable and potentially dangerous to drive. Additionally, unbalanced wheels can cause damage to your vehicle's suspension and steering components.
How often should I have my wheels balanced?
It is recommended to have your wheels balanced every 6,000-8,000 miles or whenever you notice vibration or uneven tire wear. It's also a good idea to have your wheels balanced when you change your tires, or if you notice that your vehicle is pulling to one side or the other.