Truck Wheel Balancer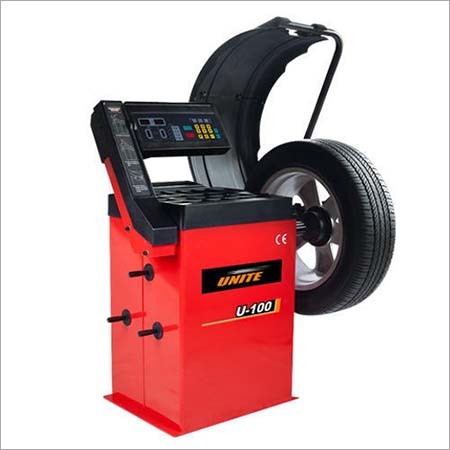 Truck Wheel Balancer
Price And Quantity
Product Specifications
Other

1.5 to 20 inch Inch (in)
Product Description
Balance the heels of the trucks of any model and style with this efficient and advanced technology Truck Wheel Balancer. This is designed using high-quality components and modern features to provide the best results with minimum efforts and time. It is available with easy to use controls and buttons in compact designs. In addition to this, this is provided in robust design to easily withstand the weight up to 150 Kg.
Features of Truck Wheel Balancer :
High-Quality Components: The Truck Wheel Balancer is designed using only the best components to ensure maximum efficiency and accuracy.
Advanced Technology: The advanced technology used in the design of this balancer allows for fast and accurate balancing of truck wheels, regardless of the model or style.
Robust Design: With a weight capacity of up to 150 kg, this balancer is built to withstand heavy use and provide reliable results.
Easy to Use: The controls and buttons are user-friendly and easy to use, making it easy for anyone to balance truck wheels with minimal effort.
Compact and Portable: The compact design of the Truck Wheel Balancer makes it easy to store and transport, allowing for easy use in any location.
Time-saving: With the advanced technology and easy to use controls, this Truck Wheel Balancer will save time on balancing your truck wheels and keep your vehicle running smoothly.
Product Details :
| | |
| --- | --- |
| Minimum Order Quantity | 1 Piece |
| Net Weight | 350 Kg |
| Rim Width | 1.5 to 20 inch |
| Voltage | 220 to 380 V |
| Rim Diameter | 13 to 24 inch |
| Max Wheel Weight | 150 Kg |
| Brand | Newtech |
| Balancing Precision | +/- 50 g |
| Motor Power | 0.4 /0.6kW |
FAQs of Truck Wheel Balancer
What is a truck wheel balancer and what does it do?
A truck wheel balancer is a machine that is used to balance the wheels of a truck or other heavy-duty vehicle. It helps to ensure that the wheels are properly balanced, which can improve the vehicle's handling, stability, and fuel efficiency.
How often should truck wheels be balanced?
Truck wheels should be balanced whenever they are installed on the vehicle, as well as periodically throughout the life of the vehicle. The frequency of wheel balancing depends on how the vehicle is used, but it's generally recommended to check balance at least every 10,000 miles.
How does a truck wheel balancer work?
A truck wheel balancer works by spinning the wheel and tire assembly at high speeds and measuring any imbalances in the wheel and tire. This measurement is then used to determine the location and amount of weight that needs to be added to the wheel to balance it.
Can truck wheel balancers be used for other types of vehicles?
Yes, truck wheel balancers can also be used for other types of vehicles such as buses, trailers, and even cars.
What are the benefits of regularly balancing your truck wheels?
The benefits of regularly balancing your truck wheels include improved vehicle handling, stability, and fuel efficiency, as well as reduced wear and tear on the tires, suspension, and steering components, and longer tire life.